Tonight is the airing of the final episode of RuPaul's Drag Race, Season 5. They are doing what they did last season, which is to delay the final crowning until the reunion show. Apparently I wasn't wrong last week when I said last time that they tape three different endings to the show, mostly to ward off Twitter leaks by fans in the audience. And apparently the queens themselves don't know who won until everyone else does, according to Jinkx.
As noted by Ru on the final three episode and the "RuCap," they encouraged fans to vote by tweeting and by reposting on Facebook. Although I can't get Facebook data directly, I'm going to look at the Twitter data that I've collected. Before delving into the final predictions, I remembered that I have Twitter data from last year's airing from the Twitter gardenhose. From that, we should be able to get a sense of who had the sway of public opinion on Twitter.
The graph below plots the last week of season 4, between the announcement that the queen would be crowned at the reunion, and the final reunion show. I chose to focus only on mentions of a queen's Twitter handle, instead of using #TeamWhatever, because there weren't many counts of those in the gardenhose. The first peak is the final contest show, and the second is the actual crowning.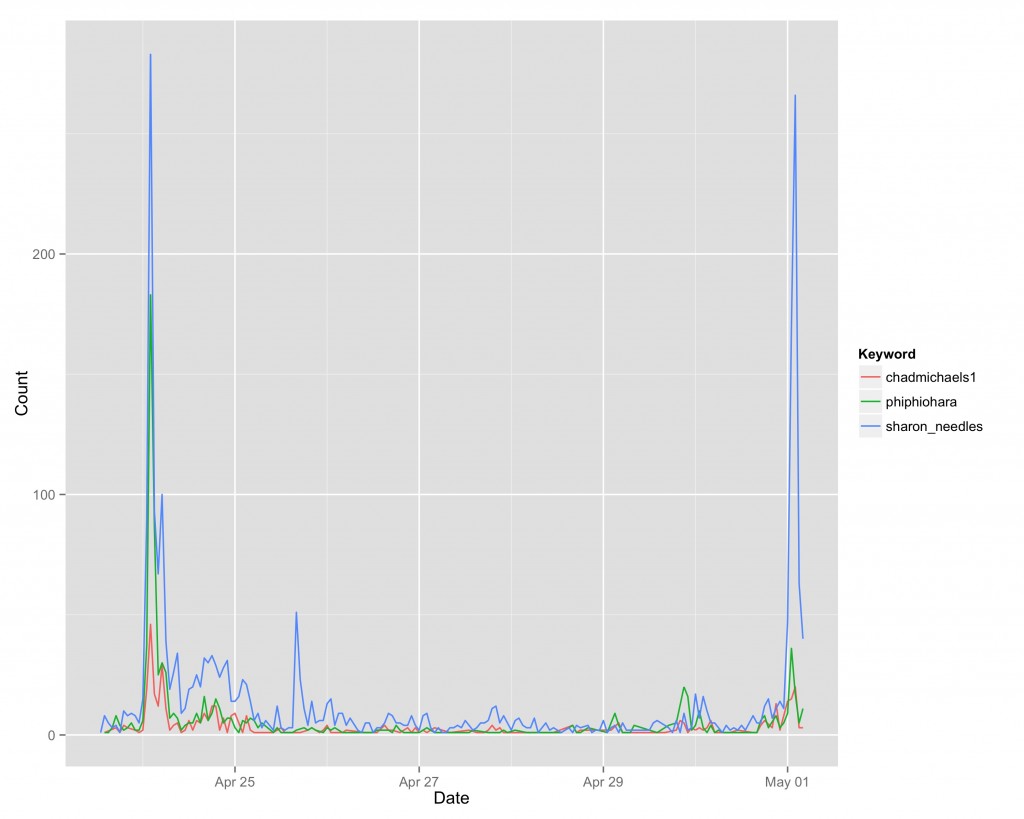 The case here is rather clear cut — Sharon Needles leads everyone for nearly the whole time period. The raw counts of mentions show no contest there. I'm actually rather surprised that Phi Phi led Chad. Maybe there was another way they showed support for her?

       Keyword Count
sharon_needles  2538
   phiphiohara   877
 chadmichaels1   497